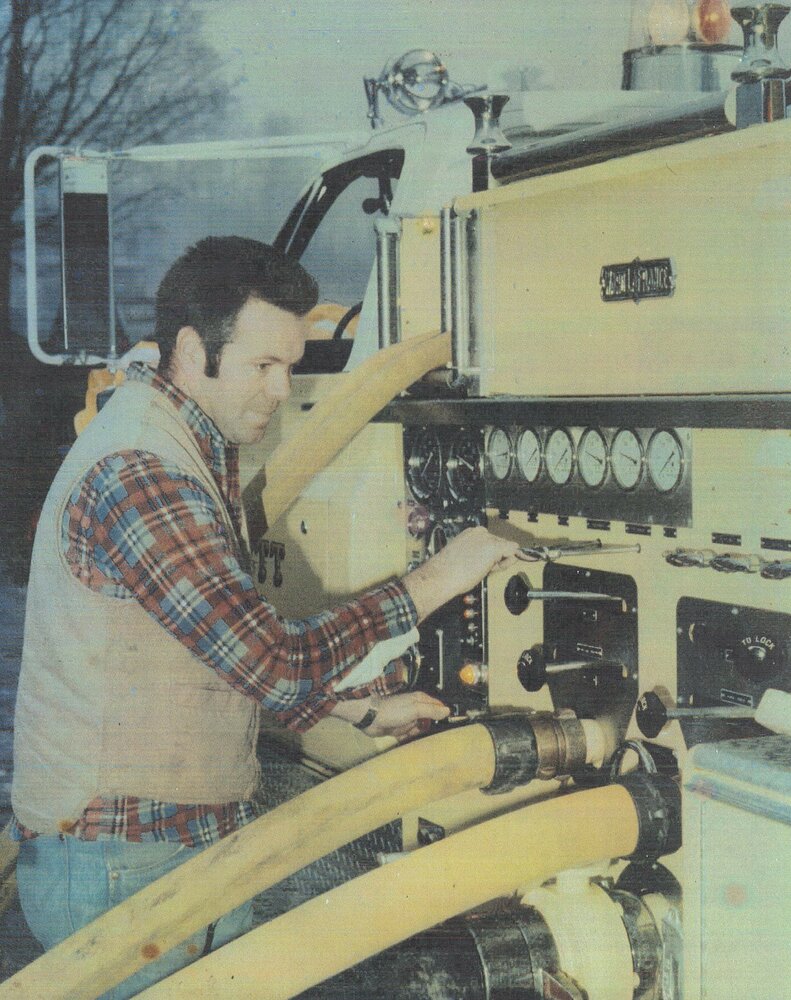 Obituary of Gary E. Kelly
Gary E (POPS) Kelly, 81, of Burdett NY passed away peacefully at home surrounded by his family on Sunday, November 19th, 2023. Gary was born in Montour Falls NY, on August 24, 1942, the son of the late Floyd and Ruth Kelly. He was a graduate of Watkins Glen High School. He was a Bus Driver, a Farmer, and a heavy equipment operator for his brother David at Silverline Construction in which he worked many years at and loved excavating the most! He was a cub scout master; he and his wife Mary owned and operated Kelly's Kitchen catering business together for 15 years and their deer cutting business as well. He's a member of the Burdett Fire Department for 58 years as an active member and past chief. He was the past chief on the fire investigation unit, deputy coordinator, past president Burdett Fire Department and the Schuyler County Firefighters Association, and the ELKS Lodge 1546 for 41 years as a lifetime member.
Gary is survived by his mother-in-law Vera Franzese, children; Craig (Cindy) Kelly, Randy (Amy) Kelly, Kim (Tim Lock) Kelly, Corie (Andy) Stansfield, Gary (Brenda Crout) Kelly, Kenny (Amanda) Field, Kelly Field, and Kristin Field; his 16 Grandchildren and 17 Great-Grandchildren; His siblings, David (Mary) Kelly, Patricia Dense, Jason (Pamela) Kelly, Sister-in-laws Susan Kelly, Sharon Kelly, and Terry Kelly; in laws Chuck and Roe Franzese, Joe Franzese, John and Doreen Franzese, Bob Franzese, Angela & Neil Seamon, Virginia Franzese; many nieces, nephews, and cousins; his fur babies Baylee (Who will miss riding around Schuyler County in the POPSK Avalanche!) and Lola (who will miss him dearly); many friends and family who all loved Gary or as most knew him as Pops.
Gary was predeceased by his parents Floyd and Ruth Kelly, Wife Mary Kelly, Father-in-law Joseph Franzese, Brothers Neal, Kevin and Phillip Kelly, brother-in-law's Terry Dense and Michael Franzese, Sister-In-law Diana Franzese, mother of his 5 children Edith Specchio Kelly, and his best friend Harold Secord.
Special thanks to all who helped make sure he was well taken care of, especially Sherri Kelly and Phyllis Creighton Cady for letting us get him home where he wanted to be and taking such great care of him!! Also thanks to all the hospice care staff; a special thanks to Robin Thoman Holden for all you did as his nurse!!
In lieu of flowers, donations can be made in honor of Gary Kelly to the Burdett Fire Department.
The family would like to invite all to a celebration of life at the Burdett Fire House on Friday, November 24th, 2023 from 3pm to 5pm. Memories of Gary may be shared with his family and friends at haugheywoodzinger.com